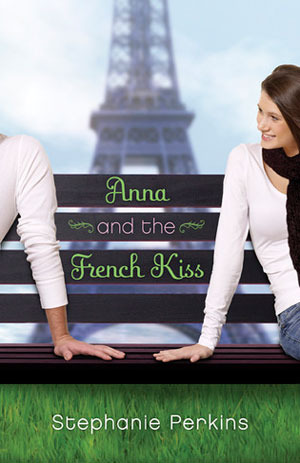 Title: Anna and the French Kiss
Author: Stephanie Perkins
Genre: Young Adult Fiction
Series: Anna and the French Kiss Trilogy
Published On: December 10th 2010
Publisher: Dutton Juvenile
Pages: 372
Format: Hardcover
Source: Bought
ISBN: 0525423273
Purchase: Amazon | B&N | Book Depository
Anna is looking forward to her senior year in Atlanta, where she has a great job, a loyal best friend, and a crush on the verge of becoming more. Which is why she is less than thrilled about being shipped off to boarding school in Paris—until she meets Étienne St. Clair. Smart, charming,beautiful, Étienne has it all…including a serious girlfriend.

But in the City of Light, wishes have a way of coming true. Will a year of romantic near-misses end with their long-awaited French kiss?
Anna and the French Kiss follows Anna, an American teenager sent to live in Paris for her senior year of high school. As she learns about the City of Light she meets St. Clair: a boy who resents the city his father loves- a boy who is in a committed relationship.
I reread this book with hopes of reviewing it. I loved Perkins' realistic characters and her spin on the "boarding school experience." Anna was richly flawed: torn between what she knows and what her heart wants. Even in Paris, she yearned for home, something I can easily relate to.
At first glance St. Clair is nothing more than a pretty face, but I was happy to be proven wrong. Once he opened up to Anna I could see why every girl he crossed paths with was immediately attracted to him- his loyalty and quick sense of humor made me fall in love with him too.
Anna and St. Clair's story turns me into a hopeless romantic every time I read it. Isn't that what a book Is supposed to do? Tilt your view of the world? Teach you to cherish your family? Show you what is most important in life?
A perfect read for anyone who needs reassurance that love does exist- you just have to be willing to fight for it.
---
You can learn more about my rating system HERE.
---