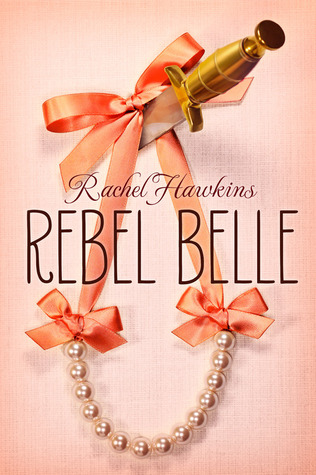 Hardcover, 345 pages
Published: April 8th 2014 by Putnam Juvenile
Original Title: Rebel Belle
ISBN: 0399256938 (ISBN13: 9780399256936)
Edition Language: English
Series: Rebel Belle #1
Personal Rating: Five (5) out of Five (5) Stars
Favorite This Review On Goodreads 
Harper Price, peerless Southern belle, was born ready for a Homecoming tiara. But after a strange run-in at the dance imbues her with incredible abilities, Harper's destiny takes a turn for the seriously weird. She becomes a Paladin, one of an ancient line of guardians with agility, super strength and lethal fighting instincts.

Just when life can't get any more disastrously crazy, Harper finds out who she's charged to protect: David Stark, school reporter, subject of a mysterious prophecy and possibly Harper's least favorite person. But things get complicated when Harper starts falling for him—and discovers that David's own fate could very well be to destroy Earth.
Harper Jane is a southern belle with a sense of humor. I have to respect that. When I speak you can tell I'm from Texas. Words fall from my mouth and, with my thick accent and my inability to slow down and take breathes when talking, people often have to ask me to repeat myself. Or they just ask my mom. Harper Jane is a lot like me in the fact that she is from a southern state and can never keep her mouth shut. I really liked that about her and was able to connect on a level I didn't think possible. A lot of the books I read are set in New York or another state I  have no connection too. I love Alabama, my Great Grandfather grew up there, so there was another thing that drew me to fall in love with Harper Jane Price's voice. Another (you know, since you asked) she doesn't curse and my cousin's last name is Price. It's no wonder I fell for this book.
Despite my love for Harper she does have her flaws. She sticks to what she knows, and throughout the book she choose to stick to what she knew. But, at the same time, she knew she had something to protect. Something much bigger than herself, something much bigger than her high school career or her best friend and boyfriend who are slipping away. I have to congratulate her on facing her fears and taking everything in stride.
She didn't wine when things didn't turn out the way she had hoped, she didn't stop herself from giving her heart to the one person she knew she could trust. For more than half the book she dealt with people and how they perceived her. She learned that you cannot care what people think of you. You shouldn't care what people say about you, she should't be ugly because someone is being ugly to you. She stood up for herself in the end, but she did it like a Belle, and I commend her for that.
The story wasn't basic, not for me anyway. I picked up this book while at a book signing back in April. I wish I would have bought Rachel Hawkins other novels. If they have the humor that Rebel Belles had, I'm sure they will become one of my favorite series in the end. I am not a huge fantasy reader. I'm not even sure this can be classified as fantasy, but let's pretend, just for the duration of this post, that it is. This story could be a crossover (look out Taylor Swift) Harper Jane Price had contemporary voice. I loved her descriptions of the clothes she wore and her best friends hair. Let's not forget the mention of her hot boy friend. I adore contemporary fiction, I love the sound of the characters voice, I enjoy the plots of each one I read. There is so much to love about contemporary. Another reason why this book might have meshed well with me.
I truly thought this novel would be one I glanced over and kept for the pretty cover. It wasn't. This book earned those five stars you see at the top of this post. With each kick to Ryan's self esteem I got a little bit happier, as I turned each page I got a little more anxious, to see how the story would play out.
This book kept me on edge and kept me reading. I read it in two sittings while ignoring my chores and my computer (THAT is a miracle in itself). I highly enjoyed this novel. If you either prefer fantasy or contemporary you will love this novel. There aren't a lot of sensual scenes but I would still recommend you be at least thirteen or older before reading this book. There isn't a lot of inappropriate behavior but there is a lot of cursing and quite a bit of prelude to what could be in a bedroom with your boyfriend. Keep that in mind. 
-Jordan