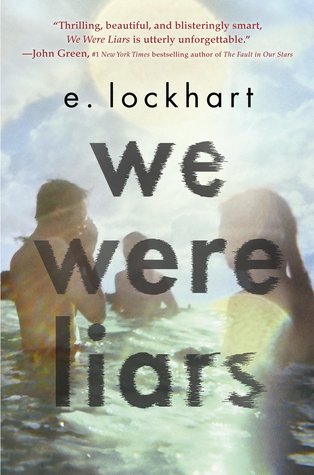 Hardcover, 227 pages
Published: May 13th 2014 by Delacorte Press (first published May 6th 2014)
Original Title: We Were Liars
ISBN: 038574126X (ISBN13: 9780385741262)
Edition Language: English
Personal Rating: Four (4) out of Five (5) Stars
Favorite This Review On Goodreads!
A beautiful and distinguished family.
A private island.
A brilliant, damaged girl; a passionate, political boy.
A group of four friends—the Liars—whose friendship turns destructive.
A revolution. An accident. A secret.
Lies upon lies.
True love.
The truth.

We Were Liars is a modern, sophisticated suspense novel from National Book Award finalist and Printz Award honoree E. Lockhart.
Read it.
And if anyone asks you how it ends, just LIE.
We Were Liars is a short novel with a complex plot. In the first 50 pages there is a gun shot and a yard sale (not what you think) At first the novel made me laugh. The main character, Candace, is very dramatic. Her descriptions of the events that happen in her life are very vivid. I loved that about the book. My laughter subsided as I got further into the novel. The events that took place were both heartbreaking and eye opening.
We were liars follows a girl, Candace Sinclair Eastman, after a tragic accident which she has no memory of. She has lost connection with everyone in her family and she does not know why. She emails her cousins, they do not reply. She sends gifts to her "true love" yet she gets no response. She chalks it up to the Sinclair family being strong and never giving in to other's pity. Even if it's one of their own. This was unrealistic to me. My family is so close, we have had people tell us we are too close, we fight but resolve everything in a matter of minutes. I do not see how someone couldn't just stop and answer an email.
Through the book Candace is very dry. Her personality made me tired. I just wanted to finish the book and be done. As mentioned above, at first she made me laugh. Her imagination painted a vivid picture of her pain, then she began to ware on me. What Candace lacked, the plot made up for. I did not expect the twists that e. lockhart added in the last 75 pages. I was waiting for something big, but not that big. Everything I had guessed had been too far off. This was much bigger than anything I could have imagined from page one.
The format of the book was very… odd. The sentences were choppy and there were several grammatical errors. Usually I can ignore them. This time I could not. This added to my decision to give this novel four stars. We Were Liars had a very intellectual plot, I just couldn't get over the grammatical errors and the unrealistic home life Candace and her cousins had.
The story's climax is disturbing. I do not recommend this book for anyone under the age of fourteen. If you are still confused about the main plot twist and are wondering if you should read this I suggest looking at more review on Goodreads. Click on the book cover at the top of this post and it will take you to the books GoodReads page. BE CAREFUL OF SPOILERS!!!!