That's right folks! It's that time again. Another week has passed, another dog has been bathed, and there is no more ice cream in the freezer. As sad as that may be (no ice cream in the freezer -the dog being bathed is something to be grateful for) I have another beautiful cover to share with you all.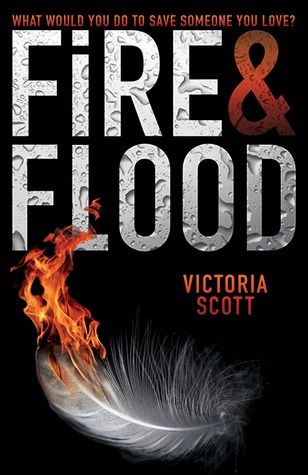 Fire and Flood by Victoria Scott. Now I'm going to be completely honest with you. I have not read this. (Have you seen a review on this blog? No, you dork, you haven't.) I bought this back in April at a book signing. With it came along two book marks and an I love Dante Walker Button. (Also a pink and black skull button but my sister was admiring it and now it seems to have left my possession.) The book (and bookmarks) were signed but I got so many books signed, I haven't had time to read them all.
Let me just say, I was researching several books before I went to Teen Book Con and found this book to be very interesting. It was one of the first books I went for while battling the endless stream of teens. (I did not kick that guy in the leg -even though he did give me an ugly look when I grabbed the last Laini Taylor book. I, very nicely, shoved him with my foot.)
The publisher missed missed an opportunity when printing the words Fire and Flood across the front of the jacket. I expected texture on the letters. Something to Ohh and Ahhh at. I was more than disappointed. The cover is completely flat.
I know that should never take away from a book… but in this case it did. The plot seems complex and seems like it will grab anyone's attention. Just beware. The cover is not as dimensional as it appears. It should have a warning label: BEWARE! THIS COVER DOES NOT HAVE ANY OHHS AND AWWS MOMENTS WHEN TOUCHING THE COVER! IT IS PRETTY BUT FEELS FLAT!
Till next time -Jordan