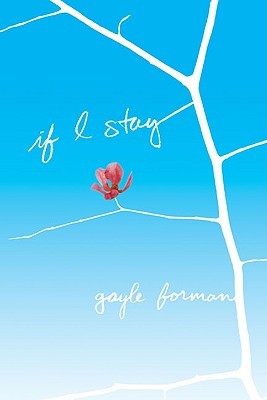 Hardcover, 201 pages
Published April 2nd 2009 by Dutton Books for Young Readers
ISBN: 0525421033 (ISBN13: 9780525421030)
Edition Language English
Series: If I Stay #1
Personal Rating: Four (4) out of Five (5) Stars
Favorite This Review On Goodreads
On a day that started like any other, Mia had everything: a loving family, a gorgeous, admiring boyfriend, and a bright future full of music and full of choices. In an instant, almost all of that is taken from her. Caught between life and death, between a happy past and an unknowable future, Mia spends one critical day contemplating the only decision she has left. It is the most important decision she'll ever make.

Simultaneously tragic and hopeful, this is a romantic, riveting, and ultimately uplifting story about memory, music, living, dying, loving.
I'll admit I didn't plan on reading this book anytime soon. I knew the book was turned into a movie but I didn't feel the story would have enough depth to hold my interest. I decided to read it when a friend from Goodreads offered to buddy read it. It sounded like a good idea. Even if I didn't enjoy it, I could talk with someone who might. Also, it's always fun to buddy read a book when you know it isn't your cup of tea. My Goodreads Buddy and I made plans to start the book in November but I was unable to get my hands on it due to the stress of the holidays. I managed to nab it from the library but was unable to actually sit down and read it until January. I started it in the middle of the month and continued to read it through February, afte re-checking it out. I then checked it out again due to a reading slump that had made itself at home from my lack of time during the holidays. I managed to read it though. I finished it yesterday.
Forman's book follows Mia as she deals with a tragic accident that transforms the direction of her life. The book switches from present to past tense. I have become a fan of books like this. When dealing with a tramadic story such as death, mental illness, incarceration etc. it is always easier for me to read the story with humor mixed in. My favorite way an author mixes humor and sadness is through using the character's past. With If I Stay it was Mia's parents. Mia herself was dry, but the sections of the book with her parents and family made the book worth reading. I would be crying one second and the next I would be trying hard to breathe through the laughter. I love finding a book that makes me feel that way.
As I mentioned, Mia was dry. Her feelings through the book, I felt, were relatively normal. I mean, if I learned about [Spoilers Redacted] while I was walking around when no one could see me… I would be screaming, pounding my fist into a wall, cursing people for not realizing I was there. I mean, I would be ashamed if I woke up, but in the moment…. As previously mentioned, the book is centered around one decision that Mia had to make but by the middle of the book, I knew what her decision was going to be. Because of that, Mia got on my nerves. As much as I understood her feelings I felt, as the reader, that she kind of allowed other people to make the big decision that she had been facing throughout the book. Her life wasn't perfect, but she could have stood up, put on her big girl panties, and decided on her own. For that reason, I was unable to give this book five stars.