"Waiting On" Wednesday is a weekly event, hosted over at Jill's blog: Breaking the Spine (click the picture above for a link), that spotlights upcoming releases that we're eagerly anticipating.
_____________________
This week on Waiting On Wednesday I have a book I can hardly wait for: An ember in the ashes by Sabaa Tahir. This book as gotten high praise. Some say Tahir has the makings of the next Rowling… yes. That Rowling. That plus the comparison to The Hunger Games (and George R.R. Martin's A Song of Fire and Ice series) has me waiting eagerly on the edge of my seat… and nervous as all get out… it is also compared to Harry Potter people. Plus it is a standalone… so no waiting for book two!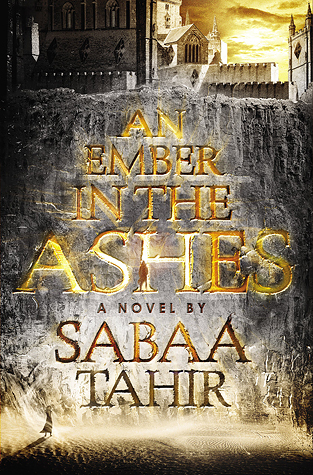 I WILL TELL YOU THE SAME THING I TELL EVERY SLAVE.

THE RESISTANCE HAS TRIED TO PENETRATE THIS SCHOOL COUNTLESS TIMES. I HAVE DISCOVERED IT EVERY TIME.

IF YOU ARE WORKING WITH THE RESISTANCE, IF YOU CONTACT THEM, IF YOU THINK OF CONTACTING THEM, I WILL KNOW

AND I WILL DESTROY YOU.

Laia is a slave.
Elias is a soldier.
Neither is free.

Under the Martial Empire, defiance is met with death. Those who do not vow their blood and bodies to the Emperor risk the execution of their loved ones and the destruction of all they hold dear.

It is in this brutal world, inspired by ancient Rome, that Laia lives with her grandparents and older brother. The family ekes out an existence in the Empire's impoverished backstreets. They do not challenge the Empire. They've seen what happens to those who do.

But when Laia's brother is arrested for treason, Laia is forced to make a decision. In exchange for help from rebels who promise to rescue her brother, she will risk her life to spy for them from within the Empire's greatest military academy.

There, Laia meets Elias, the school's finest soldier—and secretly, its most unwilling. Elias wants only to be free of the tyranny he's being trained to enforce. He and Laia will soon realize that their destinies are intertwined—and that their choices will change the fate of the Empire itself.
I love this synopsis. Doesn't this book look epic?! As a person who has enough series to read through her eighties, I love the fact this book is a standalone. I imagine myself finishing this book and feeling a sense of accomplishment… and then crying when they announce there will be a sequel or a prequel… and then crying some more when the author continues on with the story in various novellas, blog posts, and companion series. These are all just observations but looking at the past…