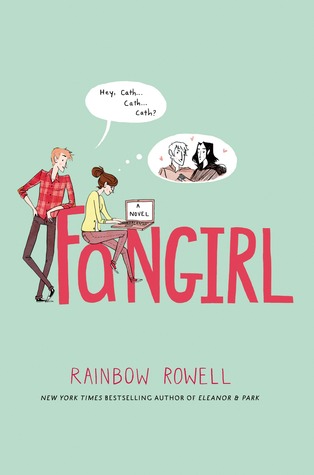 Hardcover, 433 pages
Published September 10th 2013 by St. Martin's Griffin
ISBN: 1250030951 (ISBN13: 9781250030955)
Edition Language: English
Personal Rating: Three Point Five (3.5) out of Five (5) Stars
Favorite This Review On Goodreads
A coming-of-age tale of fanfiction, family and first love

CATH IS A SIMON SNOW FAN. Okay, the whole world is a Simon Snow fan… But for Cath, being a fan is her life–and she's really good at it. She and her twin sister, Wren, ensconced themselves in the Simon Snow series when they were just kids; it's what got them through their mother leaving.

Reading. Rereading. Hanging out in Simon Snow forums, writing Simon Snow fanfiction, dressing up like the characters for every movie premiere.

Cath's sister has mostly grown away from fandom, but Cath can't let go. She doesn't want to.

Now that they're going to college, Wren has told Cath that she doesn't want to be roommates. Cath is on her own, completely outside of her comfort zone. She's got a surly roommate with a charming, always-around boyfriend; a fiction-writing professor who thinks fanfiction is the end of the civilized world; a handsome classmate who only wants to talk about words…and she can't stop worrying about her dad, who's loving and fragile and has never really been alone

For Cath, the question is: Can she do this? Can she make it without Wren holding her hand? Is she ready to start living her own life? And does she even want to move on if it means leaving Simon Snow behind?
Rainbow Rowell had a very good premise with this book. The book follows Cath as she begins her first year of college. Her twin sister, Wren, feels it is time to distance herself from Cather. They have done everything together. They share clothes, parents, even their faces. The best thing for both of them is to separate their lives for the first year of college.
Cather doesn't feel that way. Through the book Wren creates more distance by attending frat parties and drinking herself into a hospital bed while Cath stays in her dorm to scared to conquer the cafeteria. The relationship between the two sisters felt unnatural. I fight with my sister, argue over who wore whose shirt (the Bymax shirt is mine!) and who snores the loudest but when push comes to shove, we are always there for each other. If someone hurt her I would take care of them and I know she would do the same for me. I don't see Kennedy wanting to share a dorm room with a perfect stranger in order to create space between us and we aren't even twins.
The book also follows Cath through tough issues like plagiarism and writer's block. Simon Snow is the Rowell Universe equivalent of Harry Potter. Cath and Wren grew up loving the Simon Snow Fandom. They write fan fiction, based on the Simon Snow fandom, and get tens of thousands of hits doing so. I liked the added elements of fan fiction at the beginning (and in the middle) of each chapter. However, as someone who doesn't understand fan fiction (why write someone else's story when you can write your own) I also understood Professor Piper's point of view. If I had to fight to get into a Fiction Writing class I wouldn't be writing a story based in a world created by someone else. I would much rather write a story I cultivated than (no offense to any fan fiction writers out there) write stories based on Rowling's world.
The book isn't centered around the sisters' relationship and Simon Snow alone. This book also features a wonderful antagonist. I loved Levi. He could brighten any dark situation with the hint of a smile. I'll be honest, I didn't like him at the beginning. The way he acted around Cath made me aggravated. I went into this book knowing how the love story would end. It was frustrating to read through two-hundred and fifty pages with nothing more than a glance between Levi and Cather.
I don't know if it was the lack of substance in this book, but it took me forever to finish Fangirl. Between the choppy sentences and the lack of emotions I received from Cather I gave this book three point five stars. No amount of Twilight and Grease references could make me change my mind. I felt there was much more that could have made Cath angry or upset but the one thing that did it was her not reaching a deadline? A sick father and a reappearing mother didn't do that? The main reason for such a low rating had to be that the beginning of the book was hard to get into and the last fifty pages were brutal. I felt everything could have been wrapped up (and tied neatly in a bow) in 350 pages.
I was really hoping to like this book. My sister, who dislikes "mushy" books with a passion, loved it. She said it was one of the best books she read in 2014. It tied with the Fault In Our Stars. I loved the Fault In Our Stars and this book didn't hold a light to John Green's New York Times Bestseller. I normally don't pin books against each other *ignores last week's Waiting On Wednesday post* but I doubt the fact that my sister loved this book as much as The Fault In Our Stars had anything to do with my low rating.
This book does have some ADULT CONTENT. There are parts middle grade students shouldn't read.