Summer is so close I can taste it. Sitting poolside with suntan lotion thinking I look better in my bathing suit than I actually do. Summer is all about confidence and the books we are talking about today walk the walk. These books are beach ready. Give 'em some sunscreen and shades and let them go! From Jen Calonita's Belles to Emery Lord's Open Road Summer they have worked out all year long to get ready to show you their bikini ready bodies.
So without further ado, here are five of my favorite summery covers of all time.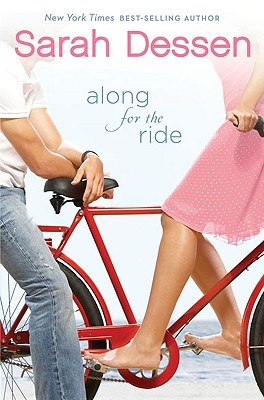 5) Along for the Ride by Sarah Dessen had to be on this list. The cover (not to mention the plot) takes me back to my childhood when I thought I was considered a "surfer" because I owned a Styrofoam skimboard… yeah. I was to be envied.  Each Dessen novel has a summer aspect to it. Whether Dessen deals with the death of a friend, sexual assault, or a missing father her ability to weave in the hint of an ocean breeze never ceases to amaze me. To read her books, with both hard-hitting topics and lighter plot-lines, it is always easier to read them with sand between my toes!
It's been so long since Auden slept at night. Ever since her parents' divorce—or since the fighting started. Now she has the chance to spend a carefree summer with her dad and his new family in the charming beach town where they live.

A job in a clothes boutique introduces Auden to the world of girls: their talk, their friendship, their crushes. She missed out on all that, too busy being the perfect daughter to her demanding mother. Then she meets Eli, an intriguing loner and a fellow insomniac who becomes her guide to the nocturnal world of the town….
Add Along for The Ride on Goodreads and don't forget to check out all things Sarah Dessen on her Website!
4)Belles by Jen Calonita. If you've read this blog since the beginning (or read through the archives -which I applaud you for) you know I have loved all things Jen Calonita since Calonita published her first book Secrets of My Hollywood Life. You also know I boycotted her books because she stopped writing SOMHL to write two different stand-alones before bringing the series to a close. (I still cry at night.) I vowed to never-ever read another book by Jen Calonita. I would not allow her to stomp on my fragile preteen heart again. Of course, as a reader, you can never stop reading your favorite author. Even if that author doesn't know what she did was wrong hence-fourth having no remorse…. But I digress.
Fifteen-year-old Isabelle Scott loves her life by the boardwalk on the supposed wrong side of the tracks in North Carolina. But when tragedy strikes, a social worker sends her to live with a long-lost uncle and his preppy privileged family. Isabelle is taken away from everything she's ever known, and, unfortunately, inserting her into the glamorous lifestyle of Emerald Cove doesn't go so well. Her cousin Mirabelle Monroe isn't thrilled to share her life with an outsider, and, in addition to dealing with all the rumors and backstabbing that lurk beneath their classmates' Southern charm, a secret is unfolding that will change both girls' lives forever.
I was pleasantly surprised to love this book. Isabelle and Marabelle aren't Kaitlin Burke but I enjoyed their journeys both as a team and individuals. Even though I knew the ending (Amazon.com reviews will be the death of me) I loved this book and have since decided to read all Calonita books. As if I was ever really going to stop….
Add Belles to your To-Buy Goodreads shelf and don't forget to stop by Jen's Website and comment on her cute fur-baby Captain Jack!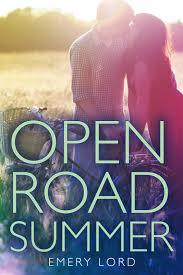 3) Open Road Summer by Emery Lord has a very beautiful cover. I will admit I have yet to read this book. I met Emery at a massive book signing back in 2014. She was the absolute sweetest and she found my knowledge of the #MattFinchForEveryone hashtag to be amusing. I hope to get to this book this summer as I am told it is the perfect summer read.
After breaking up with her bad-news boyfriend, Reagan O'Neill is ready to leave her rebellious ways behind. . . and her best friend, country superstar Lilah Montgomery, is nursing a broken heart of her own.

Fortunately, Lilah's 24-city tour is about to kick off, offering a perfect opportunity for a girls-only summer of break-up ballads and healing hearts. But when Matt Finch joins the tour as its opening act, his boy-next-door charm proves difficult for Reagan to resist, despite her vow to live a drama-free existence.

This summer, Reagan and Lilah will navigate the ups and downs of fame and friendship as they come to see that giving your heart to the right person is always a risk worth taking.
Grab a copy of Open Road Summer before you hit the beach and don't forget to Update your status on Goodreads. 
2) All I Need by Susane Colasanti. If Hazel Grace was aware of Susane Colasanti I'm pretty sure she would replace her "…is too messed up that can't be fixed with an apology and a Peter Gabriel song." quote with "…is too messed up that can't be fixed with an apology and a Susane Colasanti novel." Colasanti's books always make me smile. When I'm feeling low I grab one of my favorites (usually When It Happens or Something Like Fate) and it cheers me up within a chapter or two. Susane's books, like Dessens books, usually have a summery feel to them. Unlike Dessen's books they tend to revolve around the beginning/end of the school year but always remind me of sunny days with flipflops and a mason jar full of lemonade.
The last night of summer is only the beginning.
Skye wants to meet the boy who will change her life forever. Seth feels their instant connection the second he sees her. When Seth starts talking to Skye at the last beach party of the summer, it's obvious to both of them that this is something real. But when Seth leaves for college before they exchange contact info, Skye wonders if he felt the same way she did—and if she will ever see him again. Even if they find their way back to each other, can they make a long-distance relationship work despite trust issues, ex drama, and some serious background differences?

Stop by Susane Colasanti's Website and don't forget to check out All I Need on Goodreads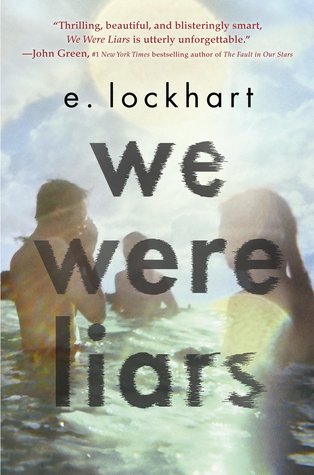 1) We Were Liars by E. Lockhart. Lockhart has a way of creating a simple minded story and slapping you in the face with it. I went into We Were Liars with the intention of a quick read to bump up my Goodreads goal in 2014. I saw the size, skimmed the summary, thought "this is going to be quick. Two hours tops," I was cocky enough to set a timer. By the time my timer went off my jaw was on the floor, I had used up every Kleenex in the house and my fur-babies were yelling at me to stop interrupting their nap with my ugly tears. It wasn't so much the sad ending as it was the shock. The shock that I could be so wrong about a book. The shock that I could be so wrong about This Book. I didn't expect to love this book, nor did I think that a year later I would still be talking about this book.
A beautiful and distinguished family.
A private island.
A brilliant, damaged girl; a passionate, political boy.
A group of four friends—the Liars—whose friendship turns destructive.
A revolution. An accident. A secret.
Lies upon lies.
True love.
The truth.

We Were Liars is a modern, sophisticated suspense novel from National Book Award finalist and Printz Award honoree E. Lockhart.

Read it.
And if anyone asks you how it ends, just LIE.
You might be thinking: This is a mystery/suspense novel. Why does this book remind you of summer? Putting aside my relationship with this book the cover artists who designed this book cover did a fantastic job putting the plot into a single image. The image of the group of teens swimming in the water with the sun glaring down on them is spot on!
As a cover designer I imagine there is pressure to sell the book by the cover alone. Readers look at the plot, but at first glance I know a majority of us won't pick up an unknown author without the book catching our eye first. As a faithful reader of Lockhart's books this would be an automatic buy for me without the stunning cover but imagining myself at the bookstore spotting this book, this cover would have made me pick it up in a heartbeat.
If you love a well-written book with a plot that will knock you off your feet add We Were Liars on Goodreads and visit E. Lockhart's Website to find out more about her books! 
If you haven't read any of these books I hope you'll check them out and, as always, if you've read any of these books leave a comment so we can chat. You can click on any author's names (mentioned in this post) highlighted in light pink to be redirected to their websites. You may also click on the book titles mentioned in this post to be redirected to said book's Goodreads page. As Always, have a lovely day and don't forget to enjoy the flipflops and short sleeved shirts why you can!