Contemporary novels are a staple in my personal library. Sarah Dessen? Check. Jenny Han? Yep. Stephanie Perkins? Do you even have to ask? Duh. There is a plethora of young adult romances out there. New authors are being signed everyday. There is always a new one to buy and two more at home you haven't started yet.
What makes teenagers (and adults) flock to this genre? It can't be the irresistible feeling of closing a book and feeling satisfied with the (happy) ending. No. Never. Could it be the good looking love interest? Of course not! I am you are not shallow! But what could it be? It can't be the originality of each story. Each books' plot runs together making it hard to remember who kissed who. Was it Levi or Dexter that is my favorite Dessen character? At some point I got tired of the authors retelling the same story. Where is the originality? Where is the five star aspect I'm looking for? The dancing-in-the-rain-maddening-love the characters are not feeling? But then I remember there is an author capable of telling original stories. You just have to find them.
In my quest to find a single contemporary with an original plot I was blown away to find five. Five books in my personal library that aren't fantasy or dystopian. There isn't a sword wielding history teacher or a secret spy school for girls in the books listed below. But there is heart pounding, jumping up and down, shocking gasps you cannot find anywhere else. It's unique to Young Adult Contemporary.
5) Gimmie A Call by Sarah Mlynowski
I read this years ago when it first came out. I read it with my sister. I had already found my love for all things Sarah Mlynowski, but this book set the tone for a different reason. I was young when I read her Magic In Manhattan series and this seemed… older. I hadn't read a Mlynwoski book in several years (at least it felt like it) when this book was released. It was refreshing to read a book by Sarah when I was considered a teenager.
A new life is just a phone call away!

Devi's life isn't turning out at all like she wanted. She wasted the past three years going out with Bryan—cute, adorable, break-your-heart Bryan. Devi let her friendships fade, blew off studying, didn't join any clubs . . . and now that Bryan has broken up with her, she has nothing left.

Not even her stupid cell phone—she dropped it in the mall fountain. Now it only calls one number . . . hers. At age fourteen, three years ago!

Once Devi gets over the shock—and convinces her younger self that she isn't some wacko—she realizes that she's been given an awesome gift. She can tell herself all the right things to do . . . because she's already done all the wrong ones! Who better to take advice from than your future self?

Except . . .what if getting what you think you want changes everything?

Fans of Sarah Mlynowski's Magic in Manhattan series will love this hilarious new novel with a high-concept premise.
This books concept is original due to the unquie plot. As young as I was, I remember being engrossed in this story. I couldn't put this book down. The thought of a character being able to right their wrongs? It was a feeling like none other. One second I was trying to figure out what the heck was going on and then BAM! The plot twist. I won't give any details since it's not nice to spoil people. But, as a fourteen year old this book stole my life, made me unable to eat, and made it hard to get a shower. Hey, don't judge. You try reading a book by your favorite author with you arm hanging out of the tub and soap in your eyes.
4) Boys, Girls and Other Hazardous Materials by Rosalind Wiseman
This is another book I read when I was younger. This book isn't original in the sense that the plot was mind blowing but that this book has stuck with me all these years. So much happens in this book. The amount of pages verses the action? Mind blowing. I remember the confusion as I flipped through the pages, trying to keep up with Wiseman's wit. As a reader there is nothing I like more than embarrassing moments in doctors offices when I can no longer hold a laugh in.
Looking for a new beginning after a terrible mean girl past, Charlie Healey realizes there's no escaping high school drama…

Charlie Healey thinks Harmony Falls is the beginning of a whole new life. Middle school was brutal. But high school is Charlie's big chance to start over and stay out of drama, except that on her first day she runs into Will, her ex-best friend, who had moved away. Now a varsity athlete and hotter than Charlie remembered, Will hangs with the crowd running the school. But Charlie doesn't understand their power until an innocent delivery guy falls victim to a near-deadly hazing prank.

Torn between doing what's right and her secret feelings for Will, Charlie must decide whether to turn in her very best friend or live with the guilt of knowing what he did.

Rosalind Wiseman's first novel for young adults is a fresh, funny, and juicy read about friendship, betrayal, and how far some will go to be accepted.
3) Hacking Harvard by Robin Wasserman
Hacking Harvard is one of those books that has such a unique concept and you know it is going to be so great you cannot wait to go home and start it. Yeah… that's what I thought. The book is told through a birds eye view of sorts. You don't learn who the mysterious storyteller is until the end of the book. The story follows three best friends who get in so much trouble you'll double over laughing from hysteria. With alternating perspectives it can get confusing. I recommend you wait until you don't have another book on your mind. You'll want to focus on this book and this book alone. Just don't read the epilogue. I'm warning you. It'll ruin it. Just don't.
It's the ultimate challenge: breaking into the Ivy League.

The hack:

To get one deadbeat, fully unqualified slacker into the most prestigious school in the country.

The crew:

Eric Roth — the good guy, the voice of reason.

Max Kim — the player who made the bet in the first place.

Schwartz — the kid genius already on the inside…of Harvard, that is.

Lexi — the beauty-queen valedictorian who insists on getting in the game.

The plan:

Use only the most undetectable schemes and techno-brilliant skills. Don't break the Hacker's Code. Don't get distracted. Don't get caught. Take down someone who deserves it.

The stakes:

A lot higher than they think.

They've got the players, the plot, and soon — the prize.

It's go time.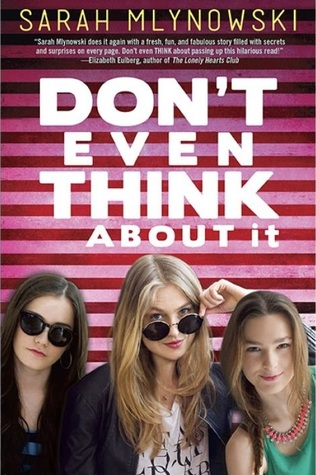 2) Don't Even Think About It by Sarah Mlynowski
Another Sarah Mlynowski book. I know. Her stories are just unique. The voice in this book is unique as well. The book is written in third person… or are they? The book starts off with them introducing themselves. You read that right. Them. With the ESP aspect of this book there was a little wiggle room for creativity. Mlynowski wrote the book with all the characters in mind. Making them one instead of individual people. It was an interesting twist. I would never be able to keep that story straight if she didn't spell it out for me!
Contemporary teen fiction with romance, secrets, scandals, and ESP from the author of Ten Things We Did (And Probably Shouldn't Have).

We weren't always like this. We used to be average New York City high school sophomores. Until our homeroom went for flu shots. We were prepared for some side effects. Maybe a headache. Maybe a sore arm. We definitely didn't expect to get telepathic powers. But suddenly we could hear what everyone was thinking. Our friends. Our parents. Our crushes. Now we all know that Tess is in love with her best friend, Teddy. That Mackenzie cheated on Cooper. That, um, Nurse Carmichael used to be a stripper.

Since we've kept our freakish skill a secret, we can sit next to the class brainiac and ace our tests. We can dump our boyfriends right before they dump us. We know what our friends really think of our jeans, our breath, our new bangs. We always know what's coming. Some of us will thrive. Some of us will crack. None of us will ever be the same.

So stop obsessing about your ex. We're always listening.
1) We Were Liars by E. Lockhart
If you haven't read this there is something wrong with you. The ending to this book. What. I sat in the living room, staring at the blank television screen until my mom came home. I helped unload the groceries without talking to people. If you knew me you would know what an achievement that is. That alone should have won Lockhart a Nobel Peace Prize. Seriously. My sister didn't know what to do with her herself. No arguing about grilled cheese verses peanut butter? She was stunned. The ending of this book floored me. The way e. lockhart managed to make me feel hopeful and then took it away? She should be ashamed. I loved it. It was such a good story with an amazing twist.
A beautiful and distinguished family.

A private island.
A brilliant, damaged girl; a passionate, political boy.
A group of four friends—the Liars—whose friendship turns destructive.
A revolution. An accident. A secret.
Lies upon lies.
True love.
The truth.

We Were Liars is a modern, sophisticated suspense novel from National Book Award finalist and Printz Award honoree E. Lockhart.
Read it.
And if anyone asks you how it ends, just LIE.
I know some of these books are not based on plot alone (Such as Number Four) but there was something about each of these books that made me feel like there wasn't anything in the world like it. That is a feeling I strive to feel every time I read a book. It makes me return to the author time and time again.
As always happy reading, and don't forget to try the new s'mores oreos,