---
Middle Grade Monday is a weekly meme started by Jordan's Jewels where you find a local market and search for magic beans… nope. That's not right. Let's try again. Middle Grade Monday is a weekly list where you share your love of peanut butter and jelly sandwiches…. No! No! No! One More time: Middle Grade Monday is a special event, hosted every Tuesday by Jordan's Jewels, where you pretend to fight ancient warriors of death in your backyard. Oh I give up. There is no way of making this sound interesting. Middle Grade Monday is a weekly meme stared by Jordan's Jewels where you follow a weekly topic to discuss middle grade fiction. If you would be interested in discussing wizards, evil fairy-godmothers, unusual names for pens or Greek gods, please check it out!

---
It's Monday which means it is time for Middle Grade Monday!! This week we are discussing Books to Have In Your Beachbag. These can be your favorites or books you own but have yet to read. Either way they need to be books you plan to read this summer.
5) Drizzle by Kathleen Van Cleve
Kathleen Van Cleve lives in Philadelphia, Pennsylvania, with her husband and two sons. She teaches creative writing at the University of Pennsylvania. -Taken from Barnes and Noble's Website
Eleven-year-old Polly Peabody knows her family's world-famous rhubarb farm is magical. The plants taste like chocolate, jewels appear in the soil, bugs talk to her, and her best friend is a rhubarb plant named Harry. But the most magical thing is that every single Monday, at exactly 1:00, it rains. Until the Monday when the rain just stops. Now it's up to Polly to figure out why, and whether her brother's mysterious illness and her glamorous aunt Edith's sudden desire to sell the farm have anything to do with it. Most of all, Polly has to make it start raining again before it's too late. Her brother's life, the plants' survival, and her family's future all depend on it. Kathleen Van Cleve has woven an unforgettable coming-of-age tale with all the heart and wonder of a Roald Dahl novel.
4) Upside-Down Magic by Sarah Mlynowski, Lauren Myracle and Emily Jenkins (AKA E. Lockhart for the YA lovers out there)
From New York Times bestselling authors Sarah Mlynowski, Lauren Myracle (Life of Ty), and Emily Jenkins (Toys Go Out) comes a new, offbeat series about a group of misfits who set out to prove that life on the other side of ordinary has its charms. -Taken from Sarah Mlynowski's Website
In a world of elite magic academies, weird and wonderful things happen when you're sent off to public school . . . and put in the Upside-Down Magic class.

It's never easy when your magic goes wonky.

✮ For Nory, this means that instead of being able to turn into a dragon or a kitten, she turns into both of them at the same time — a dritten.

✮ For Elliott, the simple act of conjuring fire from his fingertips turns into a fully frozen failure.

✮ For Andres, wonky magic means he's always floating in the air, bouncing off the walls, or sitting on the ceiling.

✮ For Bax, a bad moment of magic will turn him into a . . . actually, he'd rather not talk about that.

Nory, Elliott, Andres, and Bax are just four of the students in Dunwiddle Magic School's Upside-Down Magic class. In their classroom, lessons are unconventional, students are unpredictable, and magic has a tendency to turn wonky at the worst possible moments. Because it's always amazing, the trouble a little wonky magic can cause . . . -Taken from Sarah Mlynowski's Website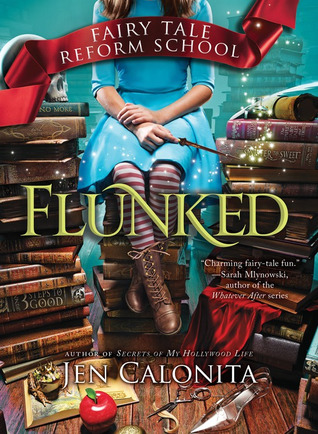 3) Flunked by Jen Calonita
It's no secret how Jen Calonita knows the inside scoop on Hollywood. A former entertainment editor at a teen magazine, Jen started out her career chronicling backstage life at concerts with Justin Timberlake and interviewing Zac Efron on film sets. It was her work in the entertainment world that inspired her first series, Secrets of My Hollywood Life. -Taken from Jen Calonita's Website
Would you send a villain to do a hero's job? An exciting new twisted fairy tale series from award-winning author Jen Calonita.

Full of regret, Cinderella's wicked stepmother, Flora, has founded the Fairy Tale Reform School with the mission of turning the wicked and criminally mischievous into upstanding members of Enchantasia.

Impish, sassy 12-year-old Gilly has a history of petty theft and she's not too sorry about it. When she lifts a hair clip, she gets tossed in reform school-for at least three months. But when she meets fellow students Jax and Kayla, she learns there's more to this school than its sweet mission. There's a battle brewing and she starts to wonder: can a villain really change?
2) Once Upon the End by James Riley
James Riley is the bestselling author of the HALF UPON A TIME trilogy and STORY THIEVES series. He lives in the Washington, DC area, and is most likely fictional. -Taken from James Riley's Website
*Disclaimer: This Synopsis DOES HAVE SPOILERS! If you haven't read the first two books DO NOT READ THIS and, of course, GO PICK THEM UP YESTERDAY!
Will there be happily ever after? Don't miss the fractured-fairy tale conclusion to the action-packed and humor-filled Half Upon a Time trilogy! Jack and May have gone their separate ways, and each is now set on course to fulfill their destiny…or are they? Nothing is ever quite as it seems in the world of fairy tales, and the two friends are in for some huge surprises as they prepare to battle the Wicked Queen once and for all. Knights, fairy godmothers, giants, and beanstalks—all of these and more fill the pages of the thrilling and hilarious conclusion to the Half Upon a Time trilogy!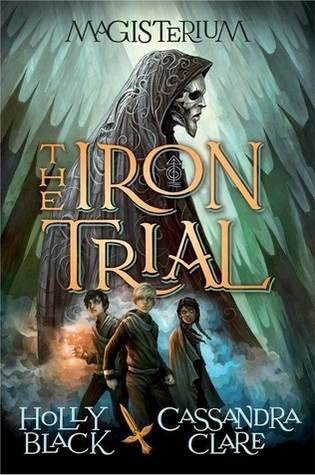 1) The Iron Trial by Holly Black and Cassandra Clare
From NEW YORK TIMES bestselling authors Holly Black and Cassandra Clare comes a riveting new series that defies what you think you know about the world of magic. -Taken from Holly Black's Website
Most kids would do anything to pass the Iron Trial.

Not Callum Hunt. He wants to fail.

All his life, Call has been warned by his father to stay away from magic. If he succeeds at the Iron Trial and is admitted into the Magisterium, he is sure it can only mean bad things for him.

So he tries his best to do his worst – and fails at failing.

Now the Magisterium awaits him. It's a place that's both sensational and sinister, with dark ties to his past and a twisty path to his future.

The Iron Trial is just the beginning, for the biggest test is still to come . . .
If you would like to participate in this weeks Middle Grade Monday discussion you can learn more here. If you decide to join in please leave the link to your blog post with my assistant, Mr. Link Gately. I warn you not to take the candy from his desk- two people have already been sent to the infirmary with puke green complexions.When asked, Mr. Link Gately simply smiled.