---
Showcase Sunday is a weekly meme hosted by Jordan's Jewels where you showcase a favorite cover on your bookshelves.

---
Jumping back into our habitual Showcase Sunday I found another reason to love this feature. It's so versatile. If you missed last week's Showcase Sunday you can see it here to get in the loop. It's also a great way to add a little something to your blog without going overboard with reviews and if you are feelings slumpy it gives your blog content. This week I am sharing a book from a favorite series of mine. I have read the original part of this trilogy series and devoured it. I was so happy when they announced they were making more. They are incredible books.
The Heir Synopsis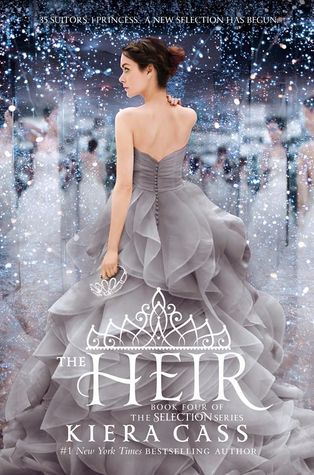 *Disclaimer: This is a continuation of a series. If you have yet to read the previous books and do not want spoilers I advise you to ignore this synopsis. 
Princess Eadlyn has grown up hearing endless stories about how her mother and father met. Twenty years ago, America Singer entered the Selection and won the heart of Prince Maxon—and they lived happily ever after. Eadlyn has always found their fairy-tale story romantic, but she has no interest in trying to repeat it. If it were up to her, she'd put off marriage for as long as possible.

But a princess's life is never entirely her own, and Eadlyn can't escape her very own Selection—no matter how fervently she protests.

Eadlyn doesn't expect her story to end in romance. But as the competition begins, one entry may just capture Eadlyn's heart, showing her all the possibilities that lie in front of her . . . and proving that finding her own happily ever after isn't as impossible as she's always thought.
I would add a link to my review but I have yet to continue on with this series. It's high on my TBR list though. I hope to read it this month. Happy reading and no, I still haven't changed my mind about bridges. Especially ones that start with Jeff. How dare he [Spoiler Removed] to Iron Man. I should probably quit watching the FX Movie Channel….