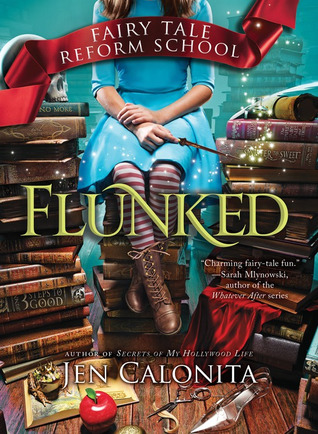 Title: Flunked by Jen Calonita
Author: Jen Calonita
Genre: Middle Grade Fiction, Fairy Tale Retelling
Series: Fairy Tale Reform School
Published On: March 3rd, 2015
Publisher: Sourcebooks Jabberwocky
Pages: 256
Format: Hardcover
Source: Bought
ISBN 149260156X (ISBN13: 9781492601562)
Purchase: Amazon | B&N | Book Depository
Would you send a villain to do a hero's job? An exciting new twisted fairy tale series from award-winning author Jen Calonita.

Full of regret, Cinderella's wicked stepmother, Flora, has founded the Fairy Tale Reform School with the mission of turning the wicked and criminally mischievous into upstanding members of Enchantasia.

Impish, sassy 12-year-old Gilly has a history of petty theft and she's not too sorry about it. When she lifts a hair clip, she gets tossed in reform school-for at least three months. But when she meets fellow students Jax and Kayla, she learns there's more to this school than its sweet mission. There's a battle brewing and she starts to wonder: can a villain really change?
---
The Inside Scoop
---
Gilly is a Cobblers' daughter who steals from "the royals" to feed her family. We meet Gilly during a well thought out heist where she steals a birthday present for her younger sister. Enchantasia is well informed in Gilly's extracurricular activities and, obviously, she is caught. (I don't consider this a spoiler as the book is based on a Reform School.)
At Fairy Tale Reform School Gilly meets a diverse set of students including Trolls, Ogres, Fairies, Gnomes, Mer-people and more. As if that wasn't interesting enough the school is run by the biggest and baddest of villains. Cinderella's Wicked Stepmother plays the leading role as the school's Headmistress, the first to be reformed. We also see a different side of the Big Bad Wolf (who killed Little Red Riding Hood's Grandmother), Ursula (renamed Madame Cleo) and the Wicked Queen, yes, that Wicked Queen.
---
I Loved…
---
The originality: I enjoyed seeing the combination of good and evil Calonita brought to the story and the progress Gilly made in her "recovery" at FTRS. I also liked the originality of her retelling. I would never have placed Ursula and the Wicked Queen in the same room -let alone a novel! Calonita's out-of-the-box-thinking made for a highly enjoyable read.
The protagonist: As you may know; I have loved Jen Calonita's writing style since her first Young Adult title. When I heard she was publishing a Middle Grade series I was over the moon… but I was also a little nervous. I have read most of Calonita's works, but she has never written another protagonist that affected me the way Kaitlin Burke (Secrets of My Hollywood Life) did. I don't know if it is because I haven't reread SOMHL in several years, but I was happily surprised to enjoy Gilly as a character. She had a mature voice with a convincing background that made her more appealing to me.
---
I Didn't Love…
---
The backstory: As much as I loved Gilly and her progress throughout the story I wish we could have had more background on the original fairy tale characters. Calonita didn't elaborate on a majority of the villains or princess. I would have liked to know more about Cinderella's stepmother's past, what made Madame Cleo tick and where Professor Wolfington went when there was a full moon.
The humor: I love reading books with humor and, going into Flunked, I expected a lot more than I received.
---
A Jeweled Rating
---

Four Kisses | This book was good. I had fun while reading it, but something was missing from this story.
You can find more information on my rating system HERE
---
If Hollywood Came Knocking
(Dream Movie Cast)
---
If this book/series was being adapted into a movie or television show who does I see the characters being played by?
Well, as a reader I have a specific idea of how the characters should look and while I am not a talent scout searching for The Next Big Thing in Hollywood I try and find photos of people that most resemble my ideas of the characters. They aren't all actors or actresses, models or fashion icons, singers or radio personalities, but they do remind me of specific characters.

---
About the Author
---
Jen Calonita
---
It's no secret how Jen Calonita knows the inside scoop on Hollywood. A former entertainment editor at a teen magazine, Jen started out her career chronicling backstage life at concerts with Justin Timberlake and interviewing Zac Efron on film sets. It was her work in the entertainment world that inspired her first series, Secrets of My Hollywood Life. The six-book series is about a teen starlet named Kaitlin Burke who grows weary of the fame game, but loves being an actress and it's been published in nine countries.
Jen usually likes to write about worlds she knows so she moved on to camp life in the books Sleepaway Girls and Summer State of Mind (since she was a camp counselor as a teen), then tackled reality TV (which she also covered in magazines) in Reality Check. It wasn't until she wrote Belles, which is about two polar opposite girls who share one life-altering secret, that she entered a world different from her own.
It was so much fun creating a new world that Jen jumped into a fairy tale one for her first middle grade, Flunked, which is the first book in the Fairy Tale Reform School series. Fans will love getting to know spunky Gilly and… Learn more on Jen's website.
---
Gems of Wisdom
(Trivia)
---
Do you dream of living a life of luxury in Hollywood? Do you wish to set foot in a cabin at Whispering Oak? These are just a few questions Jen Calonita's ultimate fan should know the answers to. Take this quiz to prove you are worthy of the title.