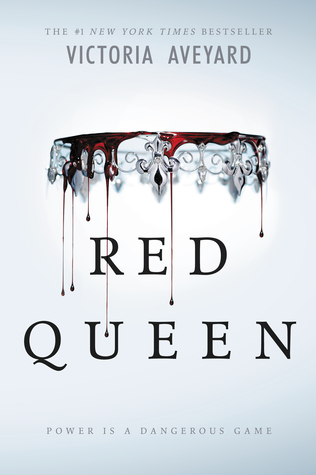 Title: Red Queen
Author: Victoria Aveyard
Genre: Young Adult Fiction
Sub-Genre(s): Dystopian
Series: Red Queen
Published On: February 10th, 2015
Publisher: HarperTeen
Pages: 383
Format: Hardcover
Source: Bought
ISBN 0062310631 (ISBN13: 9780062310637)
Purchase: Amazon | B&N | Book Depository
This is a world divided by blood – red or silver.

The Reds are commoners, ruled by a Silver elite in possession of god-like superpowers. And to Mare Barrow, a seventeen-year-old Red girl from the poverty-stricken Stilts, it seems like nothing will ever change.

That is, until she finds herself working in the Silver Palace. Here, surrounded by the people she hates the most, Mare discovers that, despite her red blood, she possesses a deadly power of her own. One that threatens to destroy the balance of power.

Fearful of Mare's potential, the Silvers hide her in plain view, declaring her a long-lost Silver princess, now engaged to a Silver prince. Despite knowing that one misstep would mean her death, Mare works silently to help the Red Guard, a militant resistance group, and bring down the Silver regime.

But this is a world of betrayal and lies, and Mare has entered a dangerous dance – Reds against Silvers, prince against prince, and Mare against her own heart.
---
My Thoughts
---
For fear of stating the obvious, it took me too long to read this book. I initially picked up Aveyard's debut novel back in October but wasn't able to fully commit to it at the time. I chose to take my time reading it but, frankly, I didn't need too.
When I emerged myself in the story I saw Aveyard had created a vivid world with lying, manipulative characters I couldn't help but love. I cannot wait to read Glass Sword!
---
I Loved…
---
 Mare Barrows: Mare was a realistic interpretation of a young girl fighting for what she thought was right. It was refreshing to read a dystopian novel from her perspective.
Originality: I think we all know you can't write an original story today but, that being said, I did find parts of Red Queen to be very unique.
Mare's Powers: I liked the way Aveyard incorporated Mare's powers. Going into Red Queen I was worried Aveyard wouldn't surprise me when introducing her protagonists powers -but I was happily surprised.
---
I Didn't Love…
---
Predictable Climax: Normally when I predict the ending of a novel before the third chapter, it is hard for me to enjoy but with everything else this book has to offer I couldn't hate it.
---
A Jeweled Rating
---
Three Kisses | While reading I had mixed feelings: I didn't hate it but I surely didn't love it!
You can learn more about my rating system HERE.
---
About the Author
---
Victoria Aveyard
---
Victoria Aveyard is a young adult and fantasy writer from the United States. She is known for her fantasy work Red Queen, which is going to be adapted into a movie… learn more on Victoria's website