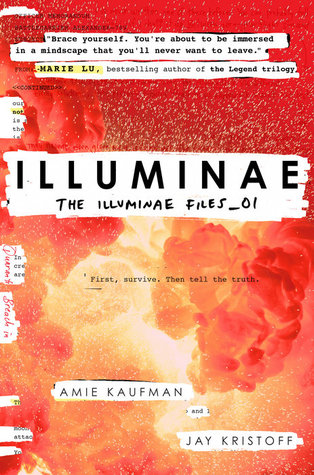 Title: Illuminae
Author: Jay Kristoff & Amie Kaufman
Genre: Young Adult Fiction
Sub-Genre(s): Fantasy
Series: The Illuminae Files #1
Published On: October 20th 2015
Publisher: Knopf Books
Pages: 599
Format: Hardcover
Source: Bought
ISBN 0553499114 (ISBN13: 9780553499117)
Purchase: Amazon | B&N | Book Depository
This morning, Kady thought breaking up with Ezra was the hardest thing she'd have to do.

This afternoon, her planet was invaded.

The year is 2575, and two rival megacorporations are at war over a planet that's little more than an ice-covered speck at the edge of the universe. Too bad nobody thought to warn the people living on it. With enemy fire raining down on them, Kady and Ezra—who are barely even talking to each other—are forced to fight their way onto an evacuating fleet, with an enemy warship in hot pursuit.

But their problems are just getting started. A deadly plague has broken out and is mutating, with terrifying results; the fleet's AI, which should be protecting them, may actually be their enemy; and nobody in charge will say what's really going on. As Kady hacks into a tangled web of data to find the truth, it's clear only one person can help her bring it all to light: the ex-boyfriend she swore she'd never speak to again.

Told through a fascinating dossier of hacked documents—including emails, schematics, military files, IMs, medical reports, interviews, and more—Illuminae is the first book in a heart-stopping, high-octane trilogy about lives interrupted, the price of truth, and the courage of everyday heroes.
---
My Thoughts
---
Kaufman and Kristoff tell a story through a creative format, using secret files, video recordings and more. It was an interesting take on a young adult novel as I normally see this in middle grade fiction.
---
I Loved…
---
 The Format: As mentioned the book was formated in an interesting way. I enjoyed reading about teenagers in this format.
Curse Words: If you have met me in real life you know I hate curse words- typed, spoken, it doesn't matter. I don't think they are necessary- and this book at a lot of them. At least they were blacked out.
Cover/Dust Jacket: The hardcover edition of this book is absolutely stunning. If you haven't seen it yet you should check it out. It is cool.
---
I Didn't Love…
---
Mature Content: As mention there were a lot of curse words and, for the most part you couldn't make them out. That is great. There were other aspects, some of the ways the guys spoke or the graphic violence, that weren't blacked out.
Characters: As much as i loved reading a book in this format i think the plot was too complex for me to focus on both the story line and the characters. I would be reading and a character would be mentioned in such a way that made me feel like i was missing something- sure enough that character was introduced ten chapters ago and I had completely forgotten about him/her.
---
A Jeweled Rating
---
You can learn more about my rating system HERE.
---
About the Authors
---
Amie Kaufman
---
Amie Kaufman is a New York Times and internationally bestselling author of young adult fiction. Her multi-award winning work has been published in 24 countries, and described as "a game-changer" (Shelf Awareness), "stylistically mesmerising" (Publishers Weekly) and "out-of-this-world awesome" (Kirkus). The Starbound Trilogy, co-authored with Meagan Spooner, began with These Broken Stars. Her latest series, co-authored with Jay Kristoff, began in 2015 with the international bestseller Illuminae. Raised in Australia… learn more on Amie's website.
---
Jay Kristoff
---
Jay Kristoff is a New York Times and international bestselling author of science fiction and fantasy. He grew up in the second most isolated capital city on earth and fled at his earliest convenience, although he's been known to trek back for weddings of the particularly nice and funerals of the particularly wealthy. He spent most of his formative years locked in his bedroom with piles of books, or gathered around dimly-lit tables rolling polyhedral dice. Being the holder of an Arts degree, he has no education to speak of… learn more on Jay's website.