---
Showcase Sunday is a weekly meme hosted by Jordan's Jewels where you showcase a favorite cover on your bookshelves.
---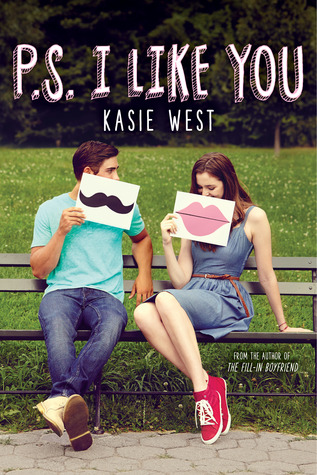 P.S. I Like You
Signed, sealed, delivered…

While spacing out in chemistry class, Lily scribbles some of her favorite song lyrics onto her desk. The next day, she finds that someone has continued the lyrics on the desk and added a message to her. Intrigue!

Soon, Lily and her anonymous pen pal are exchanging full-on letters—sharing secrets, recommending bands, and opening up to each other. Lily realizes she's kind of falling for this letter writer. Only, who is he? As Lily attempts to unravel the mystery and juggle school, friends, crushes, and her crazy family, she discovers that matters of the heart can't always be spelled out…
Kasie West's stories are full of whirlwind romances and P.S. I Like You is no different. The cover shows a guy and a girl who are hiding behind cardboard cutouts (kind of like a letter?!) and, personally, I feel like this represents the story well!