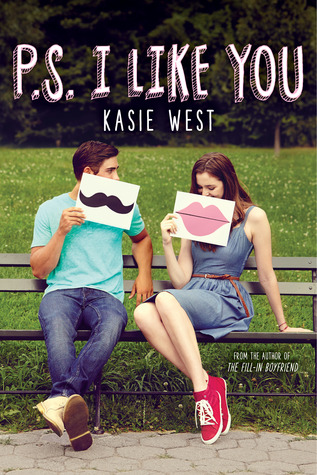 Title: P.S. I Like You
Author: Kasie West
Genre: Young Adult Fiction
Sub-Genre(s): Contemporary Romance
Series: Standalone
Published On: July 26th 2016
Publisher: Point
Pages: 330
Format: Hardcover
Source: Bought (Owlcrate)
ISBN 0545850975 (ISBN13: 9780545850971)
Purchase: Amazon | B&N | Book Depository
While spacing out in chemistry class, Lily scribbles some of her favorite song lyrics onto her desk. The next day, she finds that someone has continued the lyrics on the desk and added a message to her. Intrigue!

Soon, Lily and her anonymous pen pal are exchanging full-on letters—sharing secrets, recommending bands, and opening up to each other. Lily realizes she's kind of falling for this letter writer. Only, who is he? As Lily attempts to unravel the mystery and juggle school, friends, crushes, and her crazy family, she discovers that matters of the heart can't always be spelled out…
---
My Thoughts
---
What can I say? I loved it. 
P.S. I Like You held my attention till the very end -from the song lyrics, to the obvious yet so-cute-I-couldn't-even-be-mad-it-was-obvious-romance that filled the pages.
West reminded me of the reasons I love romance novels; they make me hope, give me something special to root for and, above all, they show me how something as small as a hand written note can give you hope in humanity.
---
I Loved…
---
Everything: Can I say that??? Okay, fine, you're forcing my hand but I'll write a "real" and/or "helpful" review.
Family: Lily's family, while hectic, always made me smile. Whether her mom was giving her an unusual form of punishment or they were celebrating a holiday like most families -loud and chaotically- West managed to display a great family dynamic without any frills. It was real and, like most of this novel, I loved it.
Rooting for An Unlikely Match: I had my suspicions (I won't say why because I was right and I don't want to spoil you) and, while my first instinct was to hate the antagonist, by page one hundred I was rooting for it to work out.
Just a side note: I am not easily swayed. I am still convinced there is a Gone with the Wind manuscript floating around (not the "sequel"… just don't.) where Rett flings the door back open and he and Scarlett work it out.
The Selfless Sidekick: How often in real like do friendships work out? I mean, come on. If you… okay, that was a major spoiler BUT the point I was trying to make is that Lily's best friend, Isabelle, is great.
---
I Didn't Love…
---
I think we all know I am too happy right now to properly asses every plot point of this book but I will say, even though it is sitting on my shelf and I can't stop smiling at it, that there is one thing that I didn't like about this book; it ended.
Now you're saying, "seriously, Jordan? That's the best you can do?"
My response to you is: "yes. This book is a magical cinnamon roll and you should read it. Now."
---
A Jeweled Rating
---
You can learn more about my rating system HERE.
---
About the Author
---
I love to write–too much. It's a sickness really. My novels out and available now are: PIVOT POINT, SPLIT SECOND, THE DISTANCE BETWEEN US, ON THE FENCE, and THE FILL-IN BOYFRIEND… learn more on Kasie's Website.