---
Showcase Sunday is a weekly meme hosted by Jordan's Jewels where you showcase a favorite cover on your bookshelves.
---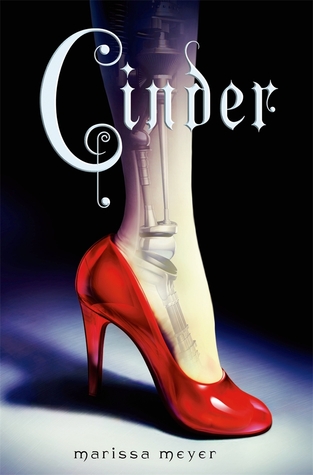 Cinder
Humans and androids crowd the raucous streets of New Beijing. A deadly plague ravages the population. From space, a ruthless lunar people watch, waiting to make their move. No one knows that Earth's fate hinges on one girl.

Cinder, a gifted mechanic, is a cyborg. She's a second-class citizen with a mysterious past, reviled by her stepmother and blamed for her stepsister's illness. But when her life becomes intertwined with the handsome Prince Kai's, she suddenly finds herself at the center of an intergalactic struggle, and a forbidden attraction. Caught between duty and freedom, loyalty and betrayal, she must uncover secrets about her past in order to protect her world's future.
If you can't tell from the title or the synopsis, Cinder is a retelling of Grimm's fairy-tales with it's own unique spin.
Cinder is a cyborg in New Beijing China after the fourth world war has ended and there is nearly peace on earth.
The red shoe with the leg showing the metal that makes up most of the main character was, for me at least, kind of off putting. I didn't really care for it. So why is it featured on this week's Showcase, you ask? Well, I'm so glad you aren't afraid to ask the hard questions! 😉
As much as I dislike the cover (it still isn't a favorite of mine!) I feel like it depicts the story fairly well, so I thought it deserved to be apart of the Showcase family!