---
Top Ten Tuesday is an original feature/weekly meme created here at The Broke and the Bookish in June 2010. This feature was created because we are particularly fond of lists here at The Broke and the Bookish. We'd love to share our lists with other bookish folks and would LOVE to see your top ten lists… learn more at the Broke and the Bookish Website.
---
Hello 2017!
Starting off the new year without a list of books I plan on buying and devouring in 2017 would be an unsatisfactory way to begin the next 365 362 days. Thankfully the fabulous minds over at the Broke and the Bookish have saved us. This weeks Top Ten Tuesday post is all about book debuting in 2017.
As always, Top Ten Tuesday topics are up to our own interpretation and, seeing as I haven't the slightest idea what authors are debuting this year (I know, I'm terrible!) I have decided to make this list about books I have been eagerly awaiting -new author or not.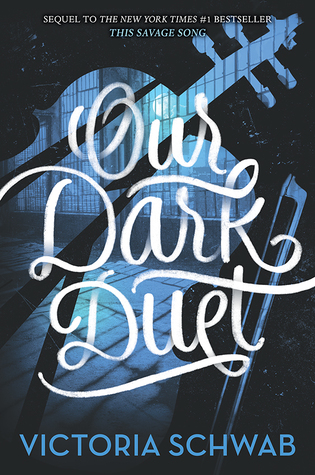 Our Dark Duet (Monsters of Verity #2) by Victoria Schwab
Expected publication: June 13th 2017 by Greenwillow Books
*This is the second book in this series -this synopsis might contain spoilers.

Kate Harker is a girl who isn't afraid of the dark. She's a girl who hunts monsters. And she's good at it. August Flynn is a monster who can never be human, no matter how much he once yearned for it. He's a monster with a part to play. And he will play it, no matter the cost.

Nearly six months after Kate and August were first thrown together, the war between the monsters and the humans is terrifying reality. In Verity, August has become the leader he never wished to be, and in Prosperity, Kate has become the ruthless hunter she knew she could be. When a new monster emerges from the shadows—one who feeds on chaos and brings out its victim's inner demons—it lures Kate home, where she finds more than she bargained for. She'll face a monster she thought she killed, a boy she thought she knew, and a demon all her own.

Always and Forever, Lara Jean (To All the Boys I've Loved Before #3) by Jenny Han
Expected publication: April 4th 2017 by Simon & Schuster Books for Young Readers
*This is the third book in this trilogy -this synopsis might contain spoilers.

Lara Jean's letter-writing days aren't over in this surprise follow-up to the New York Times bestselling To All the Boys I've Loved Before and P.S. I Still Love You.

Lara Jean is having the best senior year a girl could ever hope for. She is head over heels in love with her boyfriend, Peter; her dad's finally getting remarried to their next door neighbor, Ms. Rothschild; and Margot's coming home for the summer just in time for the wedding.

But change is looming on the horizon. And while Lara Jean is having fun and keeping busy helping plan her father's wedding, she can't ignore the big life decisions she has to make. Most pressingly, where she wants to go to college and what that means for her relationship with Peter. She watched her sister Margot go through these growing pains. Now Lara Jean's the one who'll be graduating high school and leaving for college and leaving her family—and possibly the boy she loves—behind.

When your heart and your head are saying two different things, which one should you listen to?
Because You Love to Hate Me: 13 Tales of Villainy
Expected publication: July 11th 2017 by Bloomsbury USA Childrens
This unique YA anthology presents classic and original fairy tales from the villain's point of view. The book's unconventional structure–thirteen of the most influential BookTubers on YouTube join forces (writing-prompt style) with thirteen acclaimed and bestselling authors–gives these mysterious, oft-misunderstood individuals characters a chance to tell their stories, their way.

Like Maleficent or Wicked, these are stories of vengeance, of defiance, of rage. They are stories of pain, of heartbreak, of sorrow. But don't expect a circle of hands. Leave it to the heroes to help the world; villains just want to rule the world. We love to hate them and they hate to be loved, if only because being hated frees them from having to be good.

Contributing authors include bestselling and buzzy names Renée Ahdieh, Soman Chainani, Susan Dennard, Sarah Enni, Marissa Meyer, Cindy Pon, Victoria Schwab, Samantha Shannon, Adam Silvera, Andrew Smith, April Genevieve Tucholke, and Nicola Yoon, with a foreword and a story from anthology editor Ameriie.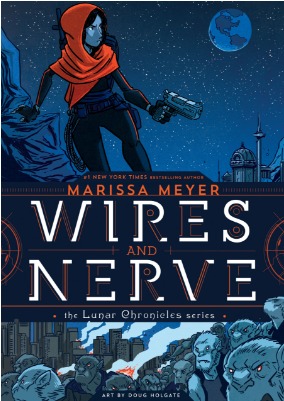 Wires and Nerve, Volume 1 (Wires and Nerve #1) by Marissa Meyer
Expected publication: January 31st 2017 by Feiwel & Friends
In her first graphic novel, #1 New York Times and USA Today bestseller Marissa Meyer follows Iko, the beloved android from the Lunar Chronicles, on a dangerous and romantic new adventure — with a little help from Cinder and the Lunar team.

In her first graphic novel, bestselling author Marissa Meyer extends the world of the Lunar Chronicles with a brand-new, action-packed story about Iko, the android with a heart of (mechanized) gold. When rogue packs of wolf-hybrid soldiers threaten the tenuous peace alliance between Earth and Luna, Iko takes it upon herself to hunt down the soldiers' leader. She is soon working with a handsome royal guard who forces her to question everything she knows about love, loyalty, and her own humanity. With appearances by Cinder and the rest of the Rampion crew, this is a must-have for fans of the bestselling series.
Forever in Love (City Love #3) by Susane Colasanti
Expected publication: July 11th 2017 by Katherine Tegen Books
*This is the third book in this trilogy -this synopsis might contain spoilers.

From bestselling author Susane Colasanti comes the bittersweet ending to the City Love trilogy about three girls who move to NYC to find themselves, only to discover that no matter where life takes them next, they will have each other.

Sadie, Darcy, and Rosanna are facing a bittersweet ending to a summer filled with amazing adventures, personal challenges, and finding love when they least expected it. But in the city where dreams become reality, anything is possible…

Sadie has to find the strength to confront a past trauma and forgive the boy who broke her heart. Darcy needs to figure out how to make it on her own for the first time and finally accept the love she deserves. Rosanna is having unexpected problems with her boyfriend and with a girl at her camp…can she overcome her fears to finally become the confident girl she envisions?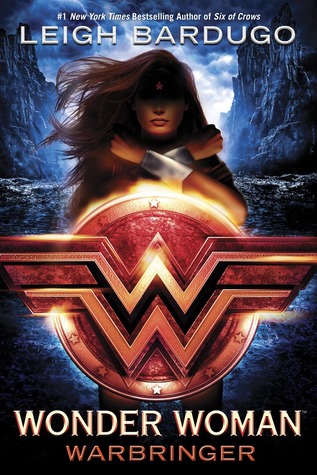 Wonder Woman: Warbringer (DC Icons) by Leigh Bardugo
Expected publication: August 29th 2017 by Random House Books for Young Readers
The highly anticipated coming-of-age story for the world's greatest super hero: WONDER WOMAN by the # 1 New York Times bestselling author LEIGH BARDUGO.

She will become one of the world's greatest heroes: WONDER WOMAN. But first she is Diana, Princess of the Amazons. And her fight is just beginning. . . .

Diana longs to prove herself to her legendary warrior sisters. But when the opportunity finally comes, she throws away her chance at glory and breaks Amazon law—risking exile—to save a mere mortal. Even worse, Alia Keralis is no ordinary girl and with this single brave act, Diana may have doomed the world.

Alia just wanted to escape her overprotective brother with a semester at sea. She doesn't know she is being hunted. When a bomb detonates aboard her ship, Alia is rescued by a mysterious girl of extraordinary strength and forced to confront a horrible truth: Alia is a Warbringer—a direct descendant of the infamous Helen of Troy, fated to bring about an age of bloodshed and misery.

Together, Diana and Alia will face an army of enemies—mortal and divine—determined to either destroy or possess the Warbringer. If they have any hope of saving both their worlds, they will have to stand side by side against the tide of war.
By Your Side by Kasie West
Expected publication: January 31st 2017 by HarperTeen
In this irresistible story, Kasie West explores the timeless question of what to do when you fall for the person you least expect. Witty and romantic, this paperback original from a fan favorite is perfect for fans of Stephanie Perkins and Morgan Matson.

When Autumn Collins finds herself accidentally locked in the library for an entire weekend, she doesn't think things could get any worse. But that's before she realizes that Dax Miller is locked in with her. Autumn doesn't know much about Dax except that he's trouble. Between the rumors about the fight he was in (and that brief stint in juvie that followed it) and his reputation as a loner, he's not exactly the ideal person to be stuck with. Still, she just keeps reminding herself that it is only a matter of time before Jeff, her almost-boyfriend, realizes he left her in the library and comes to rescue her.

Only he doesn't come. No one does.

Instead it becomes clear that Autumn is going to have to spend the next couple of days living off vending-machine food and making conversation with a boy who clearly wants nothing to do with her. Except there is more to Dax than meets the eye. As he and Autumn first grudgingly, and then not so grudgingly, open up to each other, Autumn is struck by their surprising connection. But can their feelings for each other survive once the weekend is over and Autumn's old life, and old love interest, threaten to pull her from Dax's side?
Once and for All by Sarah Dessen
Expected publication: June 6th 2017 by Viking Books for Young Readers
As bubbly as champagne and delectable as wedding cake, Once and for All, Sarah Dessen's thirteenth novel, is set in the world of wedding planning, where crises are routine.

Louna, daughter of famed wedding planner Natalie Barrett, has seen every sort of wedding: on the beach, at historic mansions, in fancy hotels and clubs. Perhaps that's why she's cynical about happily-ever-after endings, especially since her own first love ended tragically. When Louna meets charming, happy-go-lucky serial dater Ambrose, she holds him at arm's length. But Ambrose isn't about to be discouraged, now that he's met the one girl he really wants.

Sarah Dessen's many, many fans will adore her latest, a richly satisfying, enormously entertaining story that has everything—humor, romance, and an ending both happy and imperfect, just like life itself.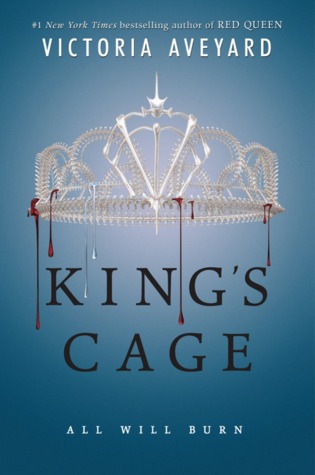 King's Cage (Red Queen #3) by Victoria Aveyard
Expected publication: February 7th 2017 by HarperTeen
*This is the third book in this series -this synopsis might contain spoilers.

In this breathless third installment to Victoria Aveyard's bestselling Red Queen series, allegiances are tested on every side. And when the Lightning Girl's spark is gone, who will light the way for the rebellion?

Mare Barrow is a prisoner, powerless without her lightning, tormented by her lethal mistakes. She lives at the mercy of a boy she once loved, a boy made of lies and betrayal. Now a king, Maven Calore continues weaving his dead mother's web in an attempt to maintain control over his country—and his prisoner.

As Mare bears the weight of Silent Stone in the palace, her once-ragtag band of newbloods and Reds continue organizing, training, and expanding. They prepare for war, no longer able to linger in the shadows. And Cal, the exiled prince with his own claim on Mare's heart, will stop at nothing to bring her back.

When blood turns on blood, and ability on ability, there may be no one left to put out the fire—leaving Norta as Mare knows it to burn all the way down.
I See London, I See France (I See London, I See France #1) by Sarah Mlynowski
Expected publication: July 11th 2017 by HarperTeen
I see London, I see France
I see Sydney's underpants.

Nineteen-year-old Sydney has the perfect summer mapped out. She's spending the next four and half weeks travelling through Europe with her childhood best friend Leela. Their plans include Eiffel-Tower-Selfies, eating cocco gelato, and making out with très hot strangers. Her plans do not include Leela's cheating ex-boyfriend showing up on the flight to London, falling for the cheating ex-boyfriend's très-hot friend, monitoring her mother's spiraling mental health via texts, or feeling like the rope in a friendship tug of war.

In this hilarious and unforgettable adventure, New York Times bestselling author Sarah Mlynowski tells the story of a girl learning to navigate secret romances, thorny relationships, and the London Tube. As Sydney zigzags through Amsterdam, Switzerland, Italy and France, she must learn when to hold on, when to keep moving, and when to jump into the Riviera….wearing only her polka dot underpants.
That is it! Writing this list has filled me with joy.. and anxiety -some of these I have a little while to wait and I have no patients for waiting!