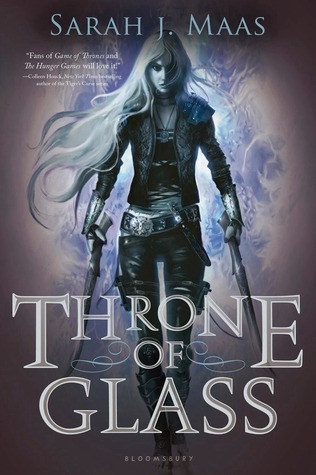 Title: Throne of Glass
Author: Sarah J. Maas
Genre: Young Adult Fiction
Sub-Genre(s): Fantasy
Series: Throne of Glass Series
Published On: May 7th 2013
Publisher: Bloomsbury USA Childrens
Pages: 404
Format: Hardcover
Source: Bought
 ISBN: 1599906953 (ISBN13: 9781599906959)
Purchase: Amazon | B&N | Book Depository
"Nothing is a coincidence. Everything has a purpose. You were meant to come to this castle, just as you were meant to be an assassin."

When magic has gone from the world, and a vicious king rules from his throne of glass, an assassin comes to the castle. She does not come to kill, but to win her freedom. If she can defeat twenty-three killers, thieves, and warriors in a competition to find the greatest assassin in the land, she will become the King's Champion and be released from prison.

Her name is Celaena Sardothien.

The Crown Prince will provoke her. The Captain of the Guard will protect her.

And a princess from a foreign land will become the one thing Celaena never thought she'd have again: a friend.

But something evil dwells in the castle—and it's there to kill. When her competitors start dying, horribly, one by one, Celaena's fight for freedom becomes a fight for survival—and a desperate quest to root out the source of the evil before it destroys her world.
---
My Thoughts
---
So, that ending… yep, this is going to be a series that keeps me turning pages -from the plot twists to the multi-faceted relationships I cannot wait to read the next one!
---
I Loved…
---
The Multiple Perspectives: I rarely read books with multiple perspective -that might be because I tend to shy away from high fantasy series with more than three books, but either way I loved reading Dorian and Chaol's perspectives.
Not only were the character's voices different but it was written in such a way that I always knew whose perspective I was reading from.Even Kaitlin… I don't really care for her.
The Ending: I don't know why I liked this ending, I think because it eludes to plot twists in future books (I think!) and I like where the story is going… especially with the king -I love a bad guy with power and this book definitely has one!
Celaena's Vanity: At the beginning of the book I quickly fell in love with one of the protagonist's character flaws -her vanity. She was open (to the reader anyway) about how she loved dressing up and going to parties. A lot of authors' don't address this flaw as plainly as Maas did and I really liked that Mass stated it outright.
---
I Didn't Love…
---
Changed Cover: Staying on the topic of vanity, I'm sure you know the hardcover edition of this book was originally published with the original dust jacket being a different design. While I don't care for the original design I will say I don't care for this either.
It has something to do with my mom banning all anime style art from our home, I'm sure, but I guess I can appreciate the newly designed dust jackets because they all match… and I am a total snob when it comes to all the books in a series matching!
Fleetfoot: I know it sounds heartless, but I don't think Adarlan's  Assassin deserves a puppy. What is she going to do with her when she has to [spoiler!]sneak into some poor souls house and murder them because the King didn't like the way he smelled?[spoiler!]
It doesn't seem fair for that poor little thing to be uprooted every time she has to "go to work," and I know it shows that she has "some compassion" but why a puppy? It makes me wonder, as a watcher of movies where puppies are slaughtered for the sake of plot twists, what will happen if Mass gets bored? Is she going to go all George R.R. Martin on us?
---
A Jeweled Rating
---
You can learn more about my rating system HERE.
---
About the Author
---
Sarah J. Maas is the #1 New York Times bestselling author of the Throne of Glass series and A Court of Thorns and Roses series, as well as a USA Today and international bestselling author. Sarah wrote the first incarnation of the Throne of Glass series when she was just sixteen, and it has now sold in thirty-five languages. A New York native, Sarah currently lives in Pennsylvania with her husband and dog. Empire of Storms, the fifth Throne of Glass novel,is available now.… learn more on Sarah's Website.