---
Shelf Control is all about the books we want to read — and already own! Consider this a variation of a Wishing & Waiting post… but looking at books already available, and in most cases, sitting right there on our shelves and e-readers… read more on Bookshelf Fantasies
---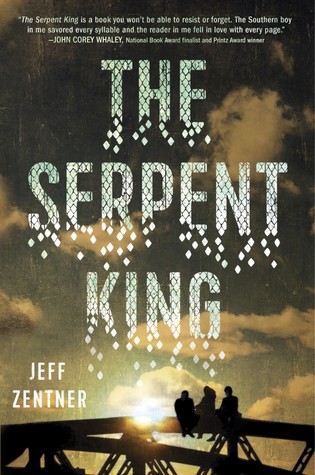 Title: The Serpent King
Author: Jeff Zenter
Series: Standalone
Pages: 384
Published On: March 8th 2016
Published By: Crown Books for Young Readers
Source: Owlcrate (Subscription Box)
Date: Winter 2016
Purchased From: N/A
Dill has had to wrestle with vipers his whole life—at home, as the only son of a Pentecostal minister who urges him to handle poisonous rattlesnakes, and at school, where he faces down bullies who target him for his father's extreme faith and very public fall from grace.

The only antidote to all this venom is his friendship with fellow outcasts Travis and Lydia. But as they are starting their senior year, Dill feels the coils of his future tightening around him. The end of high school will lead to new beginnings for Lydia, whose edgy fashion blog is her ticket out of their rural Tennessee town. And Travis is happy wherever he is thanks to his obsession with the epic book series Bloodfall and the fangirl who may be turning his harsh reality into real-life fantasy. Dill's only escapes are his music and his secret feelings for Lydia—neither of which he is brave enough to share. Graduation feels more like an ending to Dill than a beginning. But even before then, he must cope with another ending—one that will rock his life to the core.

Debut novelist Jeff Zentner provides an unblinking and at times comic view of the hard realities of growing up in the Bible Belt, and an intimate look at the struggles to find one's true self in the wreckage of the past.
---
Why Do I Want to Read It?
---
I most likely wouldn't have picked this book up at my local Barnes and Noble -reading about a kid named Dill who wrestles vipers, isn't something I would pick up on a Friday night at home- but that's why I love subscription boxes like Owlcrate, they force me to try new things -fear of snakes or no fear of snakes.
This was in March's box, the first box I received, and I still haven't gotten around to reading it. I was hoping to have a New Year's resolution, to read each Owlcrate novel before Mr. Postman shows up with another, to avoid this problem… but I didn't.
I don't have a specific date that I want to read this -snakes really aren't me thing. But I hope to get to it before the middle of the year.