---
Showcase Sunday is a red carpet event (or weekly meme) hosted my Jordan's Jewels where only the prettiest book covers dare to show their faces, strutting their stuff for the line of paparazzie ready to critique their fashion risks. –learn more here.
---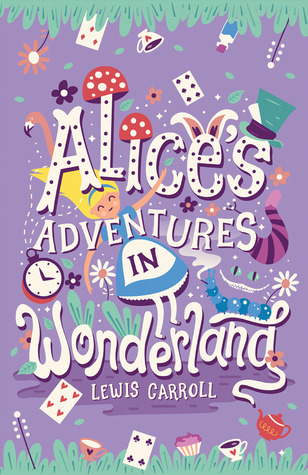 Alice's Adventures in Wonderland (commonly shortened to Alice in Wonderland) is an 1865 novel written by English mathematician Charles Lutwidge Dodgson under the pseudonym Lewis Carroll. It tells of a girl named Alice falling through a rabbit hole into a fantasy world populated by peculiar, anthropomorphic creatures. The tale plays with logic, giving the story lasting popularity with adults as well as with children. It is considered to be one of the best examples of the literary nonsense genre. Its narrative course and structure, characters and imagery have been enormously influential in both popular culture and literature, especially in the fantasy genre.
What is one word you think of when you here the title "Alice In Wonderland"?
For me it's "Whimsical" and this edition definitely has a "whimsical" feel to it. Don't you think?
Rock Paper Books is an independant publisher whose goal is to… well, I'll just let you read about it HERE. I think their artwork is stunning and I hope they keep doing what they're doing!
But we aren't here to discuss publishers, so let's get back to this stunning cover, shall we?
There is a lot going on with this paperback. You have the Cheshire Cat,
a ticking clock (at least that's how I see it!), the Mad Hatter's hat,the illusion that everything is right-side up yet upside down at the same time, and, of course you have Alice!
The artist who designed this cover managed to incorporate so much of the plot into this cover, it is absolutely amazing!