---
Shelf Control is all about the books we want to read — and already own! Consider this a variation of a Wishing & Waiting post… but looking at books already available, and in most cases, sitting right there on our shelves and e-readers… read more on Bookshelf Fantasies
---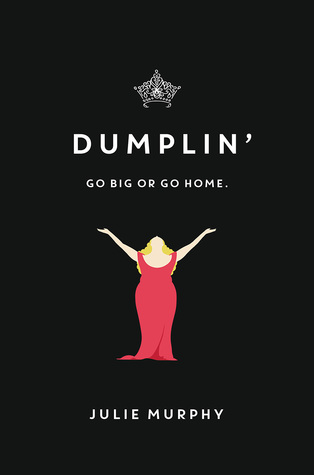 Title: Dumplin'
Author: Julie Murphy
Series: Dumplin' (#1)
Pages: 384
Published On: September 15th 2015
Published By: Balzer + Bray
Source: Bought
Date: Summer 2015
Purchased From: Barnes and Noble
Self-proclaimed fat girl Willowdean Dickson (dubbed "Dumplin'" by her former beauty queen mom) has always been at home in her own skin. Her thoughts on having the ultimate bikini body? Put a bikini on your body. With her all-American beauty best friend, Ellen, by her side, things have always worked…until Will takes a job at Harpy's, the local fast-food joint. There she meets Private School Bo, a hot former jock. Will isn't surprised to find herself attracted to Bo. But she is surprised when he seems to like her back.

Instead of finding new heights of self-assurance in her relationship with Bo, Will starts to doubt herself. So she sets out to take back her confidence by doing the most horrifying thing she can imagine: entering the Miss Clover City beauty pageant—along with several other unlikely candidates—to show the world that she deserves to be up there as much as any twiggy girl does. Along the way, she'll shock the hell out of Clover City—and maybe herself most of all.

With starry Texas nights, red candy suckers, Dolly Parton songs, and a wildly unforgettable heroine—Dumplin' is guaranteed to steal your heart.
---
Why Do I Want to Read It?
---
It's FRIDAY. Woot! Woot! It's almost the WEEKEND. Woot! Woot! But it's not just "Friday" ya'll, it's "Friday" on Jordan's Jewels which means it is time for a Shelf Addiction Post! *Cheers from an invisible -but still there- crowd.*
Dumplin' is all about loving your image -even when you might not be a size six, which is the reason I bought it. I hate that pop culture tells us we need to look like a model when half of us will never even be a model's height.
When some of us were born with certain body shapes, making it impossible to ever achieve a model's weight
When some of us are too short or too broad to even consider looking like "a model."
We're all created differently and that is something to celebrate.
Which I thought this book did.
But it might not….
I know you're never ever ever supposed to read book reviews of books you've yet to read… but, I couldn't help myself.
One of my favorite BookTubers shared her thoughts on Dumplin' and, while she had some nice things to say about it, she also said that she "changed for a boy" (not a direct quote.)
I often seek out books similar to Dumpin', because I love the message they are supposed to send. More often than not, though, the protagonist (often portrayed as a girl) falls for a guy she thinks she can't have so she changes for him.
I. Hate. It.
What kind of message is that sending to young girls/guys reading books about loving who you are when you CHANGE to make someone else LOVE YOU?
My original thought was, "nope, I'm out." But then I realized that I still have my own opinion (plus I own the book and some of the swag is just too cute) so I should read it for myself to see if I get a different message.
I haven't read it yet, but I'm hoping to get to it this summer.