---
Showcase Sunday is a red carpet event (or weekly meme) hosted my Jordan's Jewels where only the prettiest book covers dare to show their faces, strutting their stuff for the line of paparazzie ready to critique their fashion risks. –learn more here.
---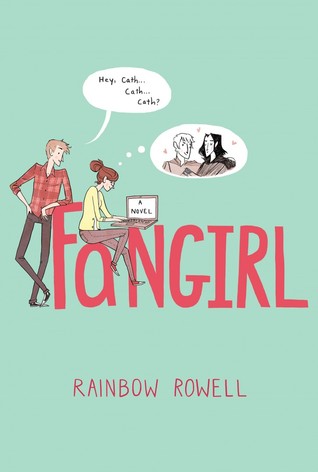 Cath is a Simon Snow fan

Okay, the whole world is a Simon Snow fan…

But for Cath, being a fan is her life—and she's really good at it. She and her twin sister, Wren, ensconced themselves in the Simon Snow series when they were just kids; it's what got them through their mother leaving.

Reading. Rereading. Hanging out in Simon Snow forums, writing Simon Snow fan fiction, dressing up like the characters for every movie premiere.

Cath's sister has mostly grown away from fandom, but Cath can't let go. She doesn't want to.

Now that they're going to college, Wren has told Cath she doesn't want to be roommates. Cath is on her own, completely outside of her comfort zone. She's got a surly roommate with a charming, always-around boyfriend, a fiction-writing professor who thinks fan fiction is the end of the civilized world, a handsome classmate who only wants to talk about words… And she can't stop worrying about her dad, who's loving and fragile and has never really been alone.

For Cath, the question is: Can she do this?

Can she make it without Wren holding her hand? Is she ready to start living her own life? Writing her own stories?

And does she even want to move on if it means leaving Simon Snow behind?
Let's not kid ourselves. This is one of the most beloved books published, in the young adult genre, in the past ten years. That's saying a lot. But it isn't just one of the most loved books, in the genre, currently sitting on my shelf, it also has one of the most recognizable covers.
The mint green background and minimalistic cover art makes it stand out from most of the dark/metallic/half-faces-with-un-achievable-yet-gorgeous-eye-make-up covers most young adult books currently wear.
I love to see a book receive praise not only on the plot, but on the cover design. And this one definitely gets equal praise for both!